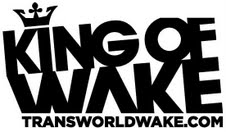 Orlando, Fla. — The King of Wake — the world's elite pro wakeboarding series — announced today the dates and locations for its 2013 season, with three new venues in North Carolina, California and Michigan, highlighting its upcoming schedule. The series will make eight stops throughout the United States, beginning in Orlando, Fla. and wrapping up in Grand Rapids, Mi.
The 2013 season will open with the Wake Games on April 25-28 at the Orlando Watersports Complex in Orlando, Fla. The Wake Games have become a kickoff tradition for the series, opening every King of Wake season since 2007.
The series will then continue the season with five stops on the Pro Wakeboard Tour, including Acworth, Ga., on May 18; Mooresville, NC. (near Charlotte), June 1; Mossdale, CA (near Sacramento)., June 29;  in the greater Seattle area of Monroe, Wash., on July 13; and in Grand Rapids, MI on August 24.  Grand Rapids will mark the first time the King of Wake series has ever been held in this city.
The King of Wake will also visit at two more venues, with WWA National Championships making a return appearance in West Chester, OH., on July 25-28.   followed by the WWA World Championships return to Pleasant Prairie, WI., on Aug. 15-18.
The King of Wake season will end with the Pro Tour finale at Grand Rapids where both a Pro Tour and a King of Wake champion will be crowned.
The Chase for the Crown, which limits the King of Wake crown to the top 10 riders in the standings midway through the season makes this series one of the most watched races in the sport.
Last year, Harley Clifford took home both the Pro Tour and King of Wake crowns after defeating Phil Soven who placed second in the standings.
2013 King of Wake Schedule
DATES                    CITY                               EVENT                                                                   VENUE
April   25-28          Orlando,   Fla.                  Nautique Wake   Games                                        Orlando Watersports                                                                                                                                                              Complex
May   18                   Acworth,   Ga.                     MasterCraft Pro Wakeboard Tour: Stop #1      Dallas Landing Park
June    1                   Mooresville, NC.             MasterCraft Pro Wakeboard Tour: Stop #2    Lake Norman
June   29                  Mossdale,   Ca.                 MasterCraft Pro Wakeboard Tour: Stop #3    Mossdale Quarry   Lakes
July   13                    Monroe,   Wash.                MasterCraft Pro Wakeboard Tour: Stop #4    Lake Tye
July    25-28           West   Chester, Oh.         Nautique WWA   National Championships    Voice of America Park
Aug. 15-18             Pleasant Prairie, Wi.     Rockstar WWA World   Championships         Prairie Springs Park                                                                                Presented by   Supra
Aug.   24                      Grand Rapids, Mi.            MasterCraft Pro Wakeboard Tour: Stop #5  Millennium Park
For more event information, including daily schedules, tickets, results, standings, photos, videos, athlete bios and more, visit www.transworldwake.com.
About ROCKSTAR
ROCKSTAR is the world's most powerful Energy Drink.  Enhanced with the potent herbal blend of Guarana, Ginseng and Milk Thistle, ROCKSTAR is formulated to provide an incredible Energy boost for those who lead active and exhausting lifestyles – from athletes to rock stars. ROCKSTAR ENERGY DRINK is available in eighteen amazing flavors: Original, Sugar Free, Zero Carb, Punched Tropical, Punched Guava, Recovery Lemonade, Recovery Orange, Recovery Grape, Iced Peach Tea, PerfectBerry, X-durance, Energy Cola, 2X, Relax, Juiced Mango Orange Passionfruit, Roasted Mocha, Roasted Light Vanilla, and Roasted Latte. ROCKSTAR ENERGY DRINK is available at convenience and grocery retail outlets across the United States, Australia, Baltics, Belgium, Canada, Czech Republic, Denmark, Finland, France, Germany, Greece,Ireland, Japan, Mexico, New Zealand, Norway, Panama, Poland, Slovakia, South Africa, Spain, Sweden, Switzerland, The Netherlands, The United Arab Emirates, and throughout the United Kingdom. ROCKSTAR ENERGY DRINK supports the active Rockstar Lifestyle in Skate, Surf, Snow, Ski, MX, FMX, Wake, Snowmobile, BMX, Mountain Bike, Bull Riding, Off-Road Racing, Rally Racing, Bands, DJs, Producers, and all styles of Live Music. Go to www.rockstarenergy.com or www.facebook.com/rockstar for athlete and event updates, videos, profiles, and product information.
About King of Wake
The King of Wake is the world's elite pro wakeboarding series, attracting the sport's top athletes from throughout the globe. Over the course of a season, athletes compete for the ultimate wakeboarding crown in a series points race of eight events throughout the United States to see who rules the wake. The 2013 series consists of the Nautique Wake Games, the Nautique WWA National Championships, the Rockstar WWA World Championships Presented by Supra and all five stops on the MasterCraft Pro Wakeboard Tour. The King of Wake is organized by World Sports & Marketing – the leading wake-events producer since 1988.
About TransWorld WAKEBOARDING Magazine
TransWorld WAKEBOARDING magazine is the leader in wake-sports media by delivering the best instruction, latest product reviews, insider knowledge and the finest photography.