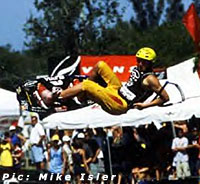 By Pat McCarthy
PM: First, your board and equipment setup?
CL: Right now I'm riding a Jobe Wolfe 135 with Hyperlite Highbacks with an 80 foot rope behind my Supra Launch.
PM: Favorite TV show?
CL: The Simpsons.
PM: Favorite wakeboarding trick?
CL: My favorite trick to do is probably a Toeside Off-Axis 720. It feels like I start it slow then crank the end of it. It feels pretty cool. My favorite tricks to watch are big poked spins off the double up.
PM: Hottest celebrity?
CL: Britney Spears is looking good.
PM: Hottest female wakeboarder?
CL: Most of the girls who ride are pretty hot, and if I answered this I know one of them would get mad at me.
PM: Funniest recent moment of your life?
CL: The moment recently took place on Super Bowl Sunday. After the game my friends and I went out on to my dock to light some fireworks. My dock is made up of two floating docks tied up to each other. So we light some fireworks and everything is going pretty good. Then we lit this one and the fuse burned all the way but nothing happened. So, we all walk up to it and as soon as we get to it the thing goes off. Everyone runs away from it as fast as they can. My friend Josh was the first to start running, and we he jumped from the dock we were on to the next one. His momentum pushed the docks apart from each other. My other friend Kieth was right behind him and couldn't see that the docks had split. So he ended up in the water fully dressed. I could not stop laughing.
PM: Any superstition?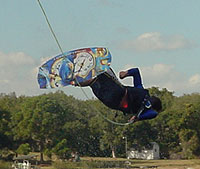 CL: I won't ride something at a tournament if I've never ridden with it before. It just doesnt feel right to me for some reason.
PM: #1 Goal?
CL: Have fun.
PM: Favorite wakeboard video?
CL: Mayday and Running With Scissors are both really good.
PM: Favorite band?
CL: Less Than Jake.
PM: Favorite old school wakeboarding trick?
CL: Fat Chance, because Byerly was doing them way back and not many people can do them now.
Rider profiles are brought to you buy Buywake.com. Check out http://www.buywake.com for top of the line wakeboarding gear.