by Pat McCarthy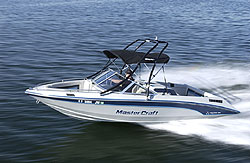 Wakeboard Tower

It seems like just yesterday that every wakeboarding boat on the water had an extended pylon, and seeing a wakeboard tower was a rare occurrence.

Well, times have changed. Wakeboard towers of various shapes and colors now dominate the wakeboarding scene. New wakeboard boats tend to come with towers, and most serious wakeboarders have added after-market towers to their older boats.

So if you're buying a new boat, or looking to add a tower to an old boat, how do you buy the right tower for your needs that also works on your boat? This article will explain what to look for in a tower, and how to buy the right one for you.

History of the Wakeboard Tower

Fairly early on in the life of wakeboarding wakeboarders began to notice that raising the tie-off point of their rope helped their hang time. The extended pylon was born and first sold commercially by Skylon. Many other manufacturers quickly followed suit.

The extended pylon was a huge step in wakeboarding, but wakeboarders soon grew tired of the pylon getting in the way by having straps or supports that made it difficult to move about the boat. Some pylons also required constant tightening or adjustment to perform optimally.

The wakeboard tower was born in the mid-1990s based on the tuna tower idea on fishing boats. Pro wakeboarders enjoyed riding behind photographer Doug Dukane's fishing boat that had a tall tower on it. Correct Craft, makers of the Nautique line of boats, patented and started selling wakeboard towers on their Air Nautique line of boats.

Like with the extended pylon market, many other manufacturers began selling towers for people to put on their boats.

Benefits of a Wakeboard Tower

First, what are the benefits of a wakeboard tower?
It raises the tie off point of the rope, allowing the rider to not be pulled down by a low tie off point. Basically, you can get more hang time with a tower.
It frees up space inside the boat compared to an extended pylon which tends to be in the middle of the boat and have straps or supports that are hard to avoid while moving around in the boat.
It provides a great place to put wakeboard racks, music speakers, or lights.
It's handy to use as a support when moving around the boat or to get in or out of the boat.
It looks cool.
While an extended pylon provides some of these benefits for a lower price, a tower is much more stable, provides more open space in the boat, and also has more space for racks, towers, and lights.

Will Your Boat Come With A Wakeboard Tower?

If you're considering on buying a wakeboard boat, it probably depends on whether you're buying a boat new or adding it to a used boat that doesn't have a tower.

Most wakeboard boat manufacturers work closely with various wakeboard tower companies to provide wakeboard towers for their boats. These are called OEM towers, which stands for original equipment manufacturers. Most new boats will have maybe a couple of options of tower types, tower colors, and accessories that you can order with your boat. These are usually top quality towers that the boat manufacturer and dealers trust a great deal. It's best to use one of these types of wakeboard towers and have it professionally installed by the dealer if you're buying a new boat. These wakeboard towers are usually designed specifically for your boat.

Some OEM tower manufacturers include Skylon, Titan, Wake Designs, Wakeboard Towers by New Dimension Towers, and others. Correct Craft makes their own tower called the Flight Control.

If you're adding a wakeboard tower to a used boat, you can usually buy an "after market" tower from those manufacturers as well as others such as Monster Tower, Joystick, New Dimension Towers, Air Boom, and more.

All these manufacturers sell wakeboard towers that "should" work for just about any type of direct drive or v-drive boat, as well as most inboard/outboard and even some outboard boats.

Most of the manufacturers offer either custom wakeboard towers which will require you to provide them with exact boat measurements, or adjustable wakeboard towers which were invented to be sold directly and installed by you the customer. There are pros and cons to each style. Custom towers are a specialty of New Dimension Towers. They make custom towers and have been in the OEM business for years. If you need a wakeboard Tower that is custom fit for your specific boat check them out.

Pros of Custom Wakeboard Towers:
Will fit your boat exactly
Can usually be powder-coated to a specific color
More stable due to exact fit
Cons of Custom Wakeboard Towers:
They are usually more expensive
They take longer to receive being that they're custom
Pros of Adjustable Wakeboard Towers:
They are usually in stock and ready to ship right away
They are generally cheaper than custom towers
Cons of Adjustable Wakeboard Towers:
They are usually only available in one or two colors.
They aren't custom, so they can potentially not have a perfect fit.
Do You Need A Collaspible Tower?
One thing to consider when purchasing a tower is if you need it to be collapsible. If you plan on storing your boat in your garage or under a roof of some type that is low, you'll most likely need a collaspsible tower. Most of the collapsible towers have fairly easy-to-use systems now that usually only take a couple of minutes to collapse the tower. The downside is that these towers are more expensive, and can be a little less sturdy then a totally solid rigid tower.
Some wakeboard towers only collapse part way, meaning that they can fit under a standard 7-foot roof level, but don't collapse to the windshield level or below. The collapse process is usually faster on this type of wakeboard tower.
The cheapest and strongest type of wakeboard tower is a fully solid and rigid tower. The downside is that you'll have to leave your boat outside or in a raised roof type of shelter, unless you totally remove your wakeboard tower. Personally I know quite a few boat owners who have these types of wakeboard towers and leave the boat covered outside for the summer, and remove their towers each winter. Some wakeboard towers can't be removed that easily though, so you definitely need to think about this when you buy.
Wakeboard Tower Color
Since wakeboard towers often add style to a boat and are very visual to the eye, people usually are pretty particular in what color tower will best fit the look they want.
The "standard" tower color is black, and really you can't go wrong with this choice. Almost every wakeboard tower is available in a black powder coat. White is also very popular, but there are many options available. It really depends on the exact tower you're looking at, whether it's custom or adjustable, and who the manufacturer is who is providing the tower.
Besides black and white, towers are available in most colors to match a boat, as well as polished or brushed aluminum or stainless steel.
Wakeboard Tower Styles and Shapes
Wakeboard Towers used to primarily be a basic style, but now there are numerous options available. They all provide the same basic function, but people prefer the look or number of cross members to be different. There are swoop-style towers, reversed-towers, caged, and roll-bar style. This is generally a personal preference thing, and people's opinions often differ on which style looks the best or is the most functional.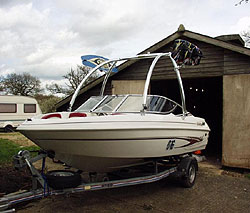 Universal Tower
Tower Constuction
All wakeboard towers are not made the same. Different towers have different mounting locations, different widths of tubing, as well as different construction materials.
A wakeboarding tower can be installed in various locations depending on the boat and tower type. They can be mounted on the top surface, side of the hull, or underneath the deck. Be sure to take note of where the towers you're looking at mount, and what type of mounts they use. Make sure that it doesn't interfere with certain aspects of your boat or how you use it. Also be careful with older boats that the fiberglass is thick enough and strong enough to handle the tower and the pull from a rider. Nothing is worse than cracking your fiberglass.
It's important to keep the tubing width in mind when looking at wakeboard tower accessories such as wakeboard racks, lights, or wakeboard tower speakers. Widths range from 1 1/2" to 3". Cross members also can have different widths, which is often what the accessories attach to, so make sure you check that out as well before buying accessories.
Towers primarily use aircraft grade aluminum such as 6061 and 6063 because of it's strength and lightweight. Stainless steel is also used on occasion for it's supreme strength, although it does weigh a bit more.
Who Will Install Your Tower?
As mentioned above, if you're buying a new boat, having your certified dealer install it is probably the safest and most effective method. In any case though, you can still usually have a tower installed by a dealer for the right price. There are also professional boat installation specialists that aren't specifid wakeboard boat dealers who can do installations of most towers. Of course their abilities, price, and serivce levels will vary, so check them out as much as possible. Lastly, you can install a tower yourself if you're handy with tools and are willing to take on the project yourself.
The Bottom Line
When choosing your tower look at all the features we've mentioned above. Make sure the style of tower works for you, the color, the construction, the mounts, if it collapses, and how you'll install it. Do your homework and talk to other tower owners, see what they do and don't like about their towers. You'll find they often have things they love and hate about their own tower. Be sure to investigate the companies you're interested in as well, what's their customer service like?
It all comes down to a personal choice though. There are plenty of companies and tower types available, so pick the one that is right for you.
Where Should You Buy?
Your local boat dealer is one natural choice, especially if they'll be installing it. One other good option is to buy your tower online through one of the Wakeboard shops. You can usually receive the best pricing, shop for the wakeboard towers quicker and see more options, get advice, and end up paying no sales tax which is a big difference when purchasing an item as expensive as a tower.
We recommend BoardStop.com for a tower purchase, Wakeboard Towers.
Where Should You Buy A Wakeboard Tower In Canada?
If you are looking for a Wakeboard tower in Canada some companies in the USA will not be able to deliver without large shipping fees and custom duties. Boardstop has teamed up with a Canadian Wakeboard Tower company to provide you duty free and shipping free wakeboard towers for your boat. If you are in Canada and are looking for a wakeboard tower see the towers offered by Boardstop that are just for Canadian customers - Wakeboard Towers in Canada. Look for the Canadian flag to spot the Wakeboard towers that are shipped FREE to Canadian customers.
We recommend BoardStop.com for a tower purchase, Wakeboard Towers.
Enjoy finding the right tower for your boat!