STOP ONE of the Australian Pro Tour of Wakeboarding ('APTW'), held on January 4th at Nowra's Australian Open of Wakeboarding, couldn't have gotten off to a better start. From 5pm, 16 competitors, including the Australia's best and two internationals, took to the water for the semi & final rounds of the competition.



THE CLOUDY SKIES kept the wind down and the waters of the Shoalhaven River flat, making for optimum wakeboarding conditions. Each rider had a 4-minute run to complete the most number of stylish, technical tricks with good use of the course obstacles including two 'sliders' and one 'kicker' (jump ramp). Minimising falls meant maximising time, however only two riders made it through the semis with no crashes.



THE COMPETITION saw some of the world's most experienced wakeboarders including Daniel Watkins, Josh Sanders, Brett Eisenhauer and Wayne Mawer, go up against the new breed of riders including Scott Broome, John Hensen, Dwayne Priestley & Chris O'Shea. A bad performance in the semis excluded US 2001 Junior Men's World Champion Keith Lyman who performed very well in the qualifying round held Friday, January 2.



IN THE END experience won over youth with Melbourne's Daniel Watkins putting in a near perfect run in both the semis and finals to take the top spot putting him at the top of the Pro Tour ladder. Watkins final run included a huge number of technical tricks such as the s-bend, scarecrow and a Pete Rose, which drove the crowd wild. Taking out 2nd was Wagga's Brett 'Ike' Eisenhauer, whose massive airs and strong style never wavered.



ON HIS WAY up through the world of wakeboarding is John 'Rubber Johnny' Hensen. His time on the water, teaching wakeboarding and training, paid off after a solid run including a tantrum, stalefish grab and frontside backroll with a 360 degree rotation to take out 3rd. Surprisingly, local hero and event organiser Josh Sanders could only manage 5th. However, Sanders is a real threat to the current leaders and is expected to come back with a vengeance at next weekend's Pro Tour stop in Adelaide.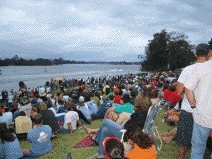 STOP ONE: Australian Pro Tour of Wakeboarding
Australian Open of Wakeboarding - January 4, 2003


1. DANIEL WATKINS (Melbourne, VIC)
2. BRETT 'IKE' EISENHAUER (Wagga, NSW)
3. JOHN HENSEN (Hawkesbury, NSW)
4. Scotty Broome (Cronulla, NSW)
5. Josh Sanders (Nowra, NSW)
6. Chris O'Shea (Melbourne, VIC)
7. Jeff Weatherall (Auckland, NZ)
8. Dean Smith (Cronulla, NSW)


NEXT WEEKEND, the Australian Pro Tour of Wakeboarding heads to 'Wake Adelaide' in Glenelg, January 11. The Pro Tour will then settle in Victoria for two events: Melbourne, January 19 and Mulwala, January 25. At the end of the four stop series, the Pro Tour Champion will be named and, for the next year at least, will have the right to call themselves Australia's best wakeboarder.